Services
---
Use Our Podcasts to Get Your Message Out
Doctor Who and science fiction in general casts a wide net in its followers. While our podcasts reaches everyone from 8 to 80, a majority of them reach those of the age of 21 to 44. Half of them are single with a disposable income.
Listeners range from 'hardcore' fans, to casual fans as well as people who have just obtained an interest in the genre. Most of them will consume other related media and collect associated memorabilia.
Looking to start a podcast? Be it audio or video, we can help you.
Are you looking to expand into online social networking?
We can help you through new media as a consultant or we can even white label a show for you.
Please inquire about consulting fees which are determined on your needs.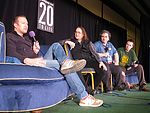 Doctor Who: Podshock has been making convention appearances over the last four years which have drawn in crowds. These events give an opportunity for convention audiences to interact on a live recording of the show. Doctor Who: Podshock has appeared at conventions on both the west and east coast of the U.S. Most popular among them are the Gallifrey One conventions in Los Angeles, CA.
Need a professional speaker for a keynote address or a speech at a conference or workshops? Louis Trapani is available.
With years experience in new media and using social media networks and online technologies to build communities and launch podcasts, Louis knows the ins and out of what works and what doesn't. Be it podcasting or the importance of maintaining an internet presence, companies and individuals can't afford to ignore the new frontier of new media.
Contact us with inquires about availability and fees.