I'm Not a Number, I'm a Remake of The Prisoner
---
As we have been reporting on Hitchhiker's Guide to British Sci-Fi, there is a new remake of the classic British series, The Prisoner on the horizon coming to the AMC (American Movie Channel). The new series is re-imagining what the late Patrick McGoohan created and starred in with late 1960's original series.
A preview running in excess of 9 minutes of the new series was presented at San Diego Comic Con currently running now through this weekend. This extended "trailer" promo for the new series gives a good taste of what to expect in the new series which while staying true to the original series in many ways also has many contrasting differences as well. Jim Caviezel now plays Number Six and the legendary actor, Sir Ian McKellen is playing Number Two. The Village is back of course, but a striking different village set in the what seems to be the middle of a desert compared to the beautiful Portmeirion in North Wales of the original series. Rover is there, and bigger than ever.
Although I am tired of remakes, reboots, re-imagined material of the past, this does seem interesting. Though I am not sure it can hold a candle to the original 17 episode series. Patrick McGoohan really defined the character with his style and flair he had infused into the character. They are pretty big shoes to fill.
See for yourself, here is the preview of the new remake of The Prisoner coming this November to AMC.
I will checking this new series out when it debuts this November. It's very unfortunate we lost Patrick McGoohan just earlier this year prior to this new series being broadcast. I'm also pleased that AMC is not turning their backs on the long time fans of the enduring classic series. The fact they presented this extra long preview at SDCC and they have been keeping updates on their website with a special blog for The Prisoner, illustrates they appreciate the fan interest in the new series.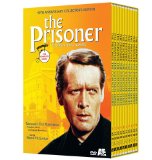 If you are not familiar with the original series, now is your chance to catch the original before November when this remake debuts. Amazon has the DVD set available: The Prisoner - Complete Series Megaset (40th Anniversary Edition)