Star Wars: The Fork Awakens
---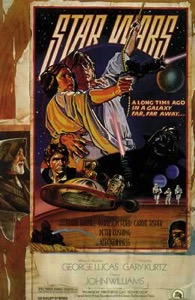 It's no secret that I have been a huge fan of Star Wars since it was released in 1977. It could even be argued that I was fan before it was even released (Sorry, Stephen Colbert, you're not alone or the first), as I was following the production and its impending release in science fiction genre media. It's without exaggeration that it had a tremendous impact on this then eleven year-old when it was released and it continued on. This post isn't focusing on that so I won't go into all the details only to say even though I was deeply into the mythology and themes of the films, it didn't prevent me from having a life outside of it.
One might guess I would be very excited about a new Star Wars movie coming out next year. I'm not. Though I will see it and it will be a nice birthday present for myself perhaps, I'm not all that terribly excited about it. That said, with my expectations low, there's a good chance it will be better than what I'm expecting and it may turn out to be very enjoyable… at least on some level. I even enjoyed on some level the 2009 "Star Trek" movie, but it was not Star Trek. The same may turn out to be true with this upcoming movie which is being helmed by the same director.
Let's get the obvious out of the way first. As if being devastated by Superstorm Sandy wasn't enough, immediately following the storm, news broke that Disney bought Lucasfilm for $4 billion. It included Star Wars. So it doesn't take a brain scientist to be smart enough to know that they are looking for a return on their investment. What better way to help do that then deciding on another sequel movie to the Star Wars saga. To utilize some of the principals from the original trilogy while they are still with us, setting the new movie some thirty-odd years into their future (they last appeared as those characters in 1983's Return of the Jedi). With many of the fans of the original trilogy old enough now to have families of their own and then some perhaps. So strike while the iron is hot with an "Episode VII" as was the announcement.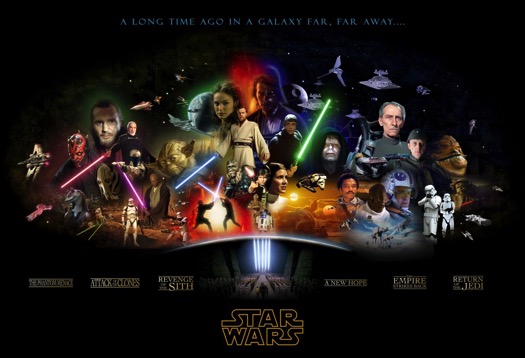 The problem is that there is no Episode VII. Oh sure, yes, George Lucas had planned on 9 movies (at one point it was going to be 12). A trilogy of trilogies, three stories, each taking three movies to tell. We were seeing the middle story first. Afterwards we would go back to see how it all began with episodes 1-3 and then return to 7-9. These were outlined, but not scripted. The plan would change though. After the first two films, ('A New Hope' and 'The Empire Strikes Back'), Lucas had felt that making these type of movies were too exhausting and time consuming. He wanted to do other projects outside of Star Wars. He decided to wrap everything up in the next chapter, Episode VI, Return of the Jedi. It was also decided to make them more in the mold of Raiders of the Lost Ark by making them focused more on action sequences. These changes led to the departure of the producer of the first two Star Wars movies, Gary Kurtz. 
According to Kurtz, Episode VI (what would become Return of the Jedi) was going to see Leia become the queen of her people, leaving her isolated. After being rescued, Han was to die somewhere midway through the movie. Vader and Luke would confront each other again with Vader continuing to trying to persuade Luke to join him in overthrowing the Emperor and ruling together as "father and son." 
Kurtz had said of the original plans for the final trilogy (episodes 7-9) were vague stating, "Yes, it was very vague. It was Luke's journey really up to becoming sort of the premiere Jedi knight in the Obi-Wan Kenobi mold and his ultimate confrontation with the emperor. That was the outline of it and all that happens." (Read more:  Gary Kurtz Interview: The Original Star Wars Producer Speaks - FilmThreat). The Emperor was originally not to had been seen in any significant way until the final episode (9). Luke's sister (who was not Leia, but someone else across the galaxy) would appear in episode 7 or 8. As we know, all these story elements came to a conclusion or resolution in Return of the Jedi. Anakin Skywalker returns with Vader turning, "the other" is revealed to be Leia (now Luke's sister), the Emperor is killed and the Empire falls. The Skywalker storyline had concluded and the story came to an end.
George Lucas stated after the release of Return of the Jedi that he was going off to do other projects and that perhaps one day he would return to do the first three films, but gave no timetable when that would come to be. Lucas would eventually come back and do them. Sixteen years later, The Phantom Menace, the first of the prequels was released. After the prequel trilogy completed itself with the release of Revenge of the Sith in 2005, George Lucas made it clear that there is no episode 7.
I don't have an issue with Disney putting out more Star Wars movies, but I would rather that they had focused on other spin-off stories instead of contriving an "episode 7" of a story that concluded in episode 6. I'd rather it be a completely new storyline. Though business-wise it is obvious that they're going after the built-in audience here. Remember, they paid $4 billion, why risk it on something new when they go for the honeypot. Hopefully, J.J. Abrams won't destroy any previous timelines as he did his take on Star Trek. We shall see when this new movie opens next December. I see this movie as just another "expanded universe" story at this point. Seeing the recently released preview teaser trailer (which I have only seen once to this point) didn't alter my opinion. I'm guessing the movie will be fun and I'm sure it will make a healthy return. The actual Star Wars saga movies had all been released in May and played through the summer, but it won't be the case for this movie.
May the fork be with you, it's done.
For more insights from Gary Kurtz, see my other post from 2010: LA Times: Did 'Star Wars' become a toy story?
From an interview with George Lucas in Total Film (May 2008) v/ @reddit pic.twitter.com/BmC6qpVrpO

— Cinephilia & Beyond (@LaFamiliaFilm) December 4, 2014