Ten Go-To Apps for iPhone Photography
---
Often I am asked which apps I use to do produce the images I do using just an iPhone. I decided to collect some of the apps I go to most for my iPhone photography at this time and list them here with some comments on each.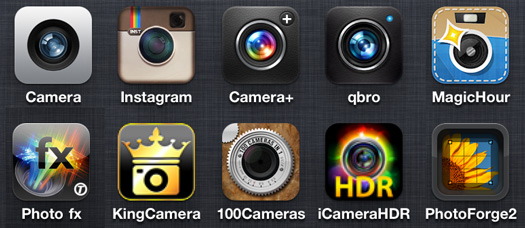 Please note: These are apps that work for me, they may not work for best for everyone. These apps represent my current go-to apps when it comes to iPhone photography. These apps are constantly changing. If you had asked me three months ago, I would be listing a different set of apps. Actually, a month ago it would be a different set of apps. What follows is not meant to be full reviews of each app, rather a short summary with some key points about each. Although I have used a great deal of photography apps on the iOS, I have not tried them all. If your app is not listed, it could be that I simply haven't tried it yet.
Although I will focus on 3rd party apps here, it should not go without mention that the Apple built-in Camera app is one of my go-to photography apps. In fact, it is the one I go to when I need to be absolutely sure of getting the shot. It is fairly rock solid and doesn't crash when using it (at least not in my experience that I can recall). I can and usually do use 3rd party apps to do post processing working on photos taken with the Apple camera app. The main thing is that I am assured of not loosing the shot due to a crash or lost photos in the app "sandbox" (more on that later). The only problem using the built-in Apple camera app currently is that for someone like me that has a very large photo library synced to their iOS devices, it often takes some time to start up (because it seems to be loading the photo library). This may change with the coming of iOS 5 this autumn as it will have an option to access the camera from the lock screen and it will not load the photo library so it should start up immediately.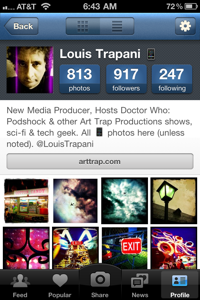 Instagram - Instagram, Inc. (App Store link - Free): No other app has brought photography alive for me on the iPhone as Instagram has done. Prior to the iPhone, I was always dismissive when it came to camera phone photography because the quality was not up to par for the most part in many camera phones before the iPhone. So often I would forget I had a decent camera with me on the iPhone. With later models, the camera got even better on the iPhone. So in 2009, I decided to start a project 365 using just my iPhone (I used the app Project 365 Pro - Alvin Yu (App Store link)). I had also decided to restrict myself to the 1:1 square aspect ratio for my project 365 (it would fit into the calendar view on the app nicely in a square format, but more so it made me appreciate the format). After completing My Project 365, I continued doing photography using Instagram when it was launched publicly in October 2010. Instagram took my iPhone photography to the next level. It too uses the 1:1 square format and has an option to apply a dozen or so creative filters. You can import your photos or use the camera in the app. It doesn't give you much else in terms photo processing (although with later versions it has introduced a tilt-shift feature that can applied to your images). What Instagram does excel at is storytelling through photography. It is a social media network with photos. Similar to Twitter, you can follow other users and others can follow you. Think of it like Twitter meets Flickr. Instagram is a free app and is free to use. Images are only half the story on Instagram, the rest is all about interacting and community. I wrote about Instagram when it was launched last October in Insta-Addiction to Instagram.
Camera+ - tap tap tap (App Store link - currently 99¢): It is probably many people's go-to-app when it comes to photography on the iPhone. It is mostly deserved, but sometimes I do feel it gets overrated. Not that it is bad, but it is missing some basic features that I would expect it would have for such an acclaimed mature photo app. As the name implies it is a camera app, plus more. The plus more are post processing features. It comes with a good batch of filters that can be used in post processing and with options to buy more. It also includes a good set of borders/frames for your shots. Shots taken with its camera are saved in its "lightbox" (you can also have it save a copy to your iPhone camera roll as well, which will increase the save time, but it is a handy feature. From the lightbox you can view and edit your shots. Camera+ is a stable app that I have put through its paces. It has crashed a couple of times with heavy use, but I never lost a shot due to it. On the negative side, it doesn't allow you to easily use more than one filter on an image. You can do it by doing it the same way you would with Instagram filters, you can save out an image that has been processed with a filter and then reload it back in and apply another. While it does include cropping (including the golden ratio guides, rule of thirds, and a 1:1 ratio which is great for Instagram among other pre-sets as well as free cropping), it does not include a way to straighten a photo.
qbro (Discontinued): This camera app quickly became a favorite of mine. Though I must admit I was skeptical of it at first. The user interface is different from what you may be familiar with on other iOS apps. Different does not equal bad. You just need to get used to it at first. Once you do, it makes sense. This app makes a great companion to Instagram. It uses the 1:1 aspect ratio and it includes dozens of creative filters. You can choose to use them all or store seldom used filters away. You can apply borders/frames to your images independently. You can access a slider to control the intensity of each filter that you apply. Tapping your filtered image will present you with your original image so you can quickly see the changes. You can purchase more filters, but the ones included are plenty to keep you happy. It has an option for 3x3 grid HUD when taking photos (handy for 1:1 shots and is something that Instagram does not). It does not include any cropping tools for shots taken with the camera in the app (only when importing, there is the standard zoom and crop options). It also does not save your geo-location data to your images. Though if you are using it with Instagram, you can add it with the location services within Instagram. One annoyance is that it has its own app gallery that saves images to when you save an image (with an option to also save to your camera roll). This gallery is not to be confused with what it calls "stacks" - basically their version of a "lightbox." I already sync my photo library to my iPhone, so having a gallery in the app is redundant. Yet I don't think there is a way having saved images only go to the camera roll and bypass the app's gallery.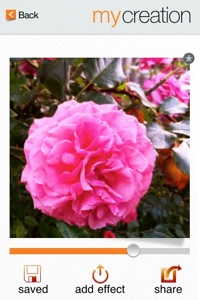 100 Cameras in 1 - Stuck In Customs (App Store link - currently 99¢): A wonderful and worthy app by the equally wonderful and worthy, Trey Ratcliff @TreyRatcliff and his company, Stuck in Customs. This is a very unique photo app for the iPhone (there's an iPad version as well: 100 Cameras in 1 HD - Stuck In Customs (App Store link)). You immediately know it is a different kind of photo app for the iOS when you hear its opening chimes welcoming you into the app. As the name says, it will offer you 100 different versions of the images you take within the app or import from your library. It too uses the 1:1 square aspect ratio and in its camera it offers you a grid HUD with your choice of using the golden ratio or the rule of thirds. Like qbro, you can zoom and crop when you import your photos, but it is not available otherwise if you use the camera feature. The filters are diverse. Some are subtle, while others are more artistic. Like with qbro, there is a slider for each so you can control the intensity of each filter. The filters are organized into categories with various ways of navigating through them all. Another unique feature of the app is that it is connected with the Apple Game Center. Don't worry though, it is not a game, just some added fun that you will get unlocking achievements with the app. There are no features that you need to unlock or anything, no worries there. 100 Cameras in 1 is also the very first iOS app to offer the option to import directly to the Instagram app. Which makes this app another great companion app to use with Instagram. The iPad version offers some more additional features (though it lakes the welcome chime that I miss). By the way, if the sounds these apps make annoy you, they all usually have an option to turn them off as does this one. I keep them on myself, I find it adds to my experience. Not many negatives here except that with 100 options, I wish there was a way to flag certain filters while exploring how they look with your image so you can easily go back to them when choosing between them. Some different from favorites which are your favorite filters. Flagged filters should only be active when working with a particular image and they should be forgotten when you load a new image (or take one with the app's camera). You can apply more than one filter to an image easily from within the app.
Photo fx - The Tiffen Company (App Store link - currently $2.99): Next to the Apple built-in camera and Instagram, I have probably been using this app the longest among the apps listed here. This is a powerful post processing app with many features, but you may not know it by looking at it. The biggest problem it has is the user interface is a bit kludgy. Without going too far into using it and getting around the interface, it does allow you to apply multiple filters to an image, it offers cropping, straightening, retouching, masking, cloning, and more. Finding all these may be the tricky part. I feel it really needs a UI overhaul. It offers lighting effects, looks, diffusion filters, gradients and tints, levels, and a search to find the filters and preset you may be looking for as there are so many. It allows you to view your image without and with the filter added to it as you go along adding more filter layers. You can also save as you go so you can have multiple versions to choose from later.
PhotoForge2 (Discontinued): This is one of the more recent additions to my go-to apps for iPhone photography. It was released last month (I never had or used the original PhotoForge, but I understand the original has couple features that have not made the cut on this next version for some reason). Before I go any further here, PhotoForge2 has a built-in app purchase option for "Pop! Cam" ($1.99) - something you will probably want. It feels incomplete without it. For that I wish it was not an added purchase, but rather just include it and raise the purchase price if need be instead of making it an additional purchase. PhotoForge2 has it all except for retouching. You can straighten images, but it is a somewhat hidden feature in the cropping tool. It includes levels, curves, and more including layers! Yes, layers. It is a powerful app that will enable you to do many creative things. You may need to sit and explore what this can do and use the various features to understand its possibilities. There have already been a few updates released since it came out which added some features so I suspect it there may be more enhancements going forward. While I like the UI for the most part, what I don't like is that after using a feature or filter, it leaves you back in the default position. It is difficult to describe here, but the UI uses a rotating dock with icons representing the various tools. They go back to the default position after leaving them which means you have to scroll back to where you where often. Perhaps this will be addressed in a future update. Finally a photo app that leaves the top iPhone status bar for you to see. So many other apps take up the entire screen leaving you without your status bar so you can monitor the time and battery level of your device. It is easy to loose yourself in these apps, so it is nice to have access to your clock right from within the app (as well as your battery level). I should note that Instagram and Magic Hour (see below) also has the top status bar visible in its app as well.
Magic Hour - Camera & Unlimited Filter - Kiwiple (App Store link - currently $1.99): This is the most recent addition to my go-to apps for photography on the iPhone. I believe I had it for less than a week as I write this now. Like qbro and 100 Cameras in 1, Magic Hour is a wonderful companion app for Instagram. Using the familiar 1:1 aspect ratio it is basically a camera and filter app. Like 100 Cameras in 1, it too will allow you to export directly into the Instagram app. The UI is very different from most apps, but is fun and intuitive. It comes with a good set of filters, but what sets this app apart is that it allows you to create your own filters and if you wish, share them others that use the app. There are thousands of additional filters available to download within the app free of charge from other users that have decided to share them. I've done that myself already (I have shared a filter I called Candy Cotton (because "Cotton Candy" was already taken) that brightens and punches up the color of an image (meant for darker images really)). In the filter maker, it offers access to curves, borders, and textures to create or recreate an existing filter. Like Photoforge 2, you see your top status bar in the app. So you can see the time and battery indicator from within the app. (UPDATE: Magic Hour has added a tilt-shift feature since this article was originally written. Unfortunately, you still cannot zoom up on an image while editing it (pinch zoom) to get a closer look at your image).
King Camera - Applications Saycheezzz.com (App Store link - currently 99¢): Another recent addition to my photo tools on my iPhone. This is probably the youngest app of them all here. With that said, I am sure this app will become more polished as updates are released more on this in a bit. There are some wonderful features here. One of which I haven't even had a chance to try out. It offers time lapse photography and like the Apple built-in camera app, you can switch to video mode to shoot video. The time lapse photography option alone is like getting a second app for the same price (though I haven't tried it yet, so I won't comment further than that now). It is also like two apps in one because it has a quick filter mode and a more pro mode for fine tuned enhancements. Like Magic Hour, it always you to create your own filters in the Pro mode (ProMatik) and then save them for the Quick mode (QuickMatik). It uses a "lightbox" called Photo Desk where you manage your photos for processing. It includes various filters in different categories such as color, monochrome, grunge, and themes in the QuickMatic mode. You can take the elements of these filters and do what you like with them in the ProMatik mode. You can do some real creative stuff with King Camera, but at this time, it is NOT a great companion app for Instagram. Why? Although they say it is coming, it was released without a 1:1 square aspect ratio pre-set crop. There are other aspect ratio pre-sets available in the app, but no 1:1. Why? How could you not include that in this day and age of Instagram? Guess what, Instagram is only available for the iOS platform at this time, that is the exact audience for this app. Instagram just passed 5 million users this week. 5 million. How can you release a photo editing app without consideration for the 1:1 square aspect ratio which is the standard on Instagram? Makes no sense to me. Also be sure that you save all shots to your camera roll in addition to the Photo Desk in the app. Last week I was using this app out on the field and took a half a dozen shots with it. Later I went back to edit them and there were not in the Photo Desk. They were simply not there. I lost those images. Thankfully it were not one of a kind shots. They are shots I could go back and retake if I wanted. Now I made sure all camera shots are also saved to the camera roll. I tweeted the developers of the app and they say they are looking into it. I should also note that I hadn't lost any photos prior to that occasion or since. Just be careful and make sure your shots are being saved. As I said, this is a very new app and I am sure it will have some initial bumps ironed out before long. (UPDATE: On June 29th there was a King Camera update release to the App Store which *finally* includes the 1:1 pre-set crop aspect ratio. Finally I can recommend it now for use with Instagram. Though like Magic Hour, it lacks pinch zooming and zooming out. It would be nice if you could zoom in on an image while editing to get a closer view of your image).
iCamera HDR: All-in-One (Discontinued): Sometimes you need to take a high dynamic range (HDR) photograph with your iPhone. There are several popular apps for this including a function in the Apple built in camera app. Though the third party HDR apps go much further with HDR than the Apple feature in the camera app. I recently started using iCamera HDR for when I need HDR. It has the ability to shot in an automatic mode or manual mode as well as adjusting the range of a single shot photo from your library, though you will get better results using two. Despite the hype from the developer, this is not the only iOS app that is true HDR. Yes, there are other apps that claim to be HDR but are not really using multiple images, but not all of them. While I like iCamera HDR, I found it to crash on my iPhone 4 quite often. Especially after saving a shot. In other words, whether you save a shot and go back to do more editing on it or take another shot, it seems likely to crash before you can save again. Another alternative for HDR which is simpler although with less features is HDR Fusion - Cogitap Software (App Store link), my previous go to app for HDR. There is no fuss with HDR Fusion and it is less prone to crashes. I like the features that iCamera HDR offers (it has filters although I rather use other apps for filter effects). I like having that flexibility of controlling the tone mapping and saturation, etc. that the app offers compared to HDR Fusion. As with all HDR photography, you have to keep the camera as still as possible and shot subjects that are not in motion. (Note: Since I had written this article, iCameraHDR has had an update or two and it is now less prone to crashes. While not rock solid yet, it is more stable than it was when I had written the above).
One more thing...
Filterstorm Neue - Tai Shimizu (App Store link). (UPDATE: Since writing this piece originally, there has been one more app that has become one of my "go-to apps" for iPhone photography. That is Filterstorm. So umm.. yeah, it's now 11 go-to apps). Despite its name, this is not a typical "filter" photography app. That is not the type that has a set of filter effects which you can apply and perhaps tweak once applied to your image. This app considers photo adjustments such as sharpening, hue/saturation, brightness/contrast, curves, white balance, etc. as "filters" so if you are expecting filters similar to those found Instagram, you may be disappointed. That said, it is a very powerful app for those aforementioned features and so many others. It probably has the best implementations of masks that I have seen in an iPhone photo editing app. Very understandable, intuitive, and easy to use. This had quickly become a "go-to app" for iPhone photography soon after installing.
There you have it, ten of my go-to apps for photography on the iPhone. Of course I use many other apps, but these are the ones I am currently returning to most often. As stated in the beginning, this was not meant to be a full review of each app, but rather just some talking points on each. There is no one app that does it all for me… Sometimes I will use two or more apps to get the results I want. Whatever app or apps you use, the important this is to have fun. With that said, it may be wise to save to your camera roll in addition to the app for those apps that allow it. It is easier to delete a duplicate image than it is to retake a lost image.